About the Collection
The cartridge collection consists of military rifle, heavy machine gun, and small-caliber cannon ammunition up to 35mm. While the collection contains older cartridges, its primary focus is on ammunition made during World War II or later.
Within this very broad field, there is a special emphasis on 7.62x51mm NATO, .50 BMG, 30x173mm GAU-8, and experimental ammunition.
Featured Ammunition Exhibit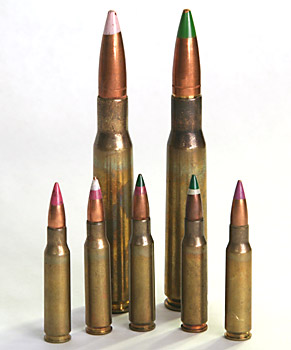 Dim Tracers
Dim tracers, sometimes called starlight tracers or infrared tracers, emit mostly infrared wavelengths and show little to no visible light when they burn.
Dim tracers help conceal a gunner's location by rendering the tracer stream invisible to the naked eye. Dim tracers also address the problem of night vision devices being overwhelmed by the brightness of traditional tracer rounds.