About the Collection
The cartridge collection consists of military rifle, heavy machine gun, and small-caliber cannon ammunition up to 35mm. While the collection contains older cartridges, its primary focus is on ammunition made during World War II or later.
Within this very broad field, there is a special emphasis on 7.62x51mm NATO, .50 BMG, 30x173mm GAU-8, and experimental ammunition.
Featured Ammunition Exhibit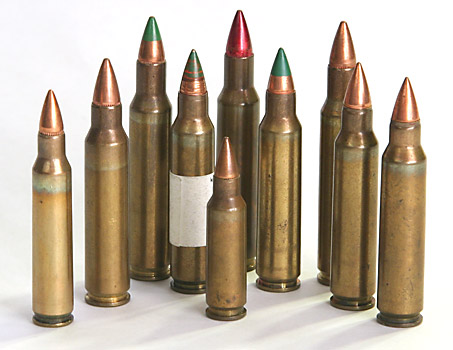 Small Caliber High Velocity Program (SCHV)
The SCHV program was one of several interrelated projects whose aim was to improve the combat effectiveness of the infantry rifle. It was thought that a small-caliber, high-velocity cartridge would have a greater hit probability than the current 7.62x51mm NATO rifle round due to its lower recoil and flatter trajectory.
View all cartridges in the Small Caliber High Velocity Program (SCHV) exhibit